These last few months have been absolutely bonkers. We all know the pandemic has caused so much change that I feel like we're in an alternate universe, the twilight zone, or even wonderland. I didn't know if I wanted to make a post even talking about these historic times but environmentalism can never stop, not even for new threats. Below are two ways I've tried to minimize my impact while also staying safe:
Reusable masks.
The new fashion trend of 2020 worldwide is wearing face protection to minimize spreading sickness.  Combining this with my love for Disney I was able to purchase two cotton masks from Simply Sawdust Studio on Etsy. I know in some areas it's been difficult purchasing masks because of the shortage but there are many outlets selling reusable cotton masks that are great protection and can be washed and reused again. This not only reduces the possibility of spreading sickness but does it in a way that doesn't increase the amount of waste from one time use masks.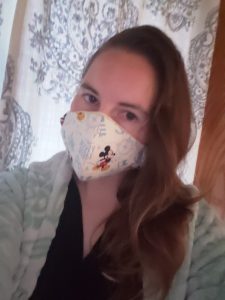 Cotton Bags
I've already received concerns about reusable bags containing and spreading germs due to possibilities of items such as meat leaking from their packaging or because of the bags being exposed every time you step into the store. I would suggest using whatever cotton bags you already have and then just washing them in the laundry after every use. This should minimize risk of exposure while also allowing to reduce the amount in plastic coming through your door.
I know these ways are obvious but in painful times of struggle it's easy to throw out any habits that require extra effort. I hope everyone is safe at home with their families and I applaud all the students who are graduating during this time. Congratulations! Follow my other media links below for more ways on how to live each and every day by Codegreen.
My Media Links:
Facebook:https://www.facebook.com/CodenameGreen-448026342048749/?ref=hl
Instagram:https://www.instagram.com/codenamegreen1/
Pinterest:https://www.pinterest.com/codenamegreen/
YouTube:https://www.youtube.com/channel/UC2uyqOjfJaxdn4kVJPFYgjw